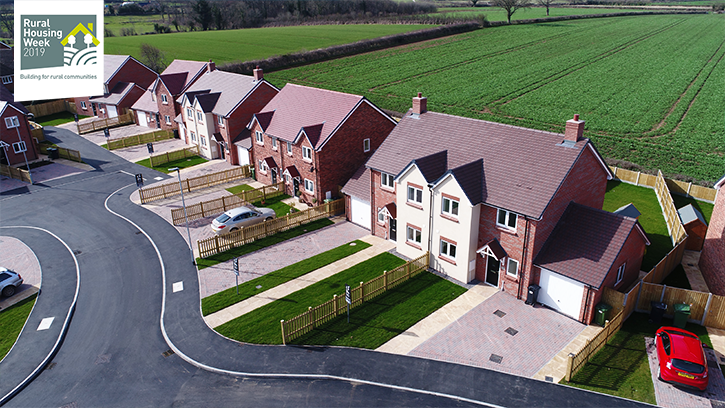 Rural Housing Week 2019 tackles the complex issues around Building for rural communities. Here we use our Watling Close development in Canon Pyon as an example of the work Connexus do to meet the specific needs of our rural communities while driving up housing supply.
The idyllic village of Canon Pyon sits only 8 miles outside of Hereford city centre, yet the housing issues facing a rural community like this can be worlds away from those found in more urban locales. Canon Pyon has always boasted a relative wealth of local amenities when compared to many other Herefordshire villages, with a thriving primary school, village shop and The Nag's Head pub helping to maintain a real sense of local community. In recent years, however, there was a sense that a lack of investment in affordable housing had begun to have a negative effect, with local people driven further afield by increasingly high private rents and sales values
Working in partnership with contractor GP Thomas, Connexus began work on our Watling Close development on the outskirts of Canon Pyon in 2016, with all properties handed over to residents by February 2018. It was clear from the start that the housing needs in the area were not going to be met with a 'one-size fits all' solution, and so Watling Close features a mix of affordable housing and open market properties (5 social rent, 8 affordable rent, 4 private rent, 5 shared ownership and 8 open market properties). This mix has helped to create a truly sustainable community with housing options for a range of income levels.
Recent Government statistics estimate that over 9,000 properties across Herefordshire are classed as being in fuel poverty, with residents struggling to maintain an adequate living standard after paying their energy bills. Addressing this issue in the long-term was a priority at Canon Pyon and all 30 properties were fitted with air source heating. This eco-conscious innovation sees warm air extracted from the house used to heat filtered air drawn from outside.
Victoria Tomlinson, Director of Development, explains more about the challenges met by Watling Close and our future developments:
"I'm proud of our development at Canon Pyon and our continuing commitment to delivering affordable homes for rural communities. We worked with a local contractor on this development ensuring local jobs could be sustained, local apprenticeships supported and investment secured for the local economy. The huge variety of housing tenures provided here helps to support local people with a wide range of budgets, enabling them to live in the community they love."