Robert kickstarts his career at Connexus
A former student and care farm volunteer who joined Connexus through the Government's Kickstart Scheme has started a new role in the organisation's customer services team.
Image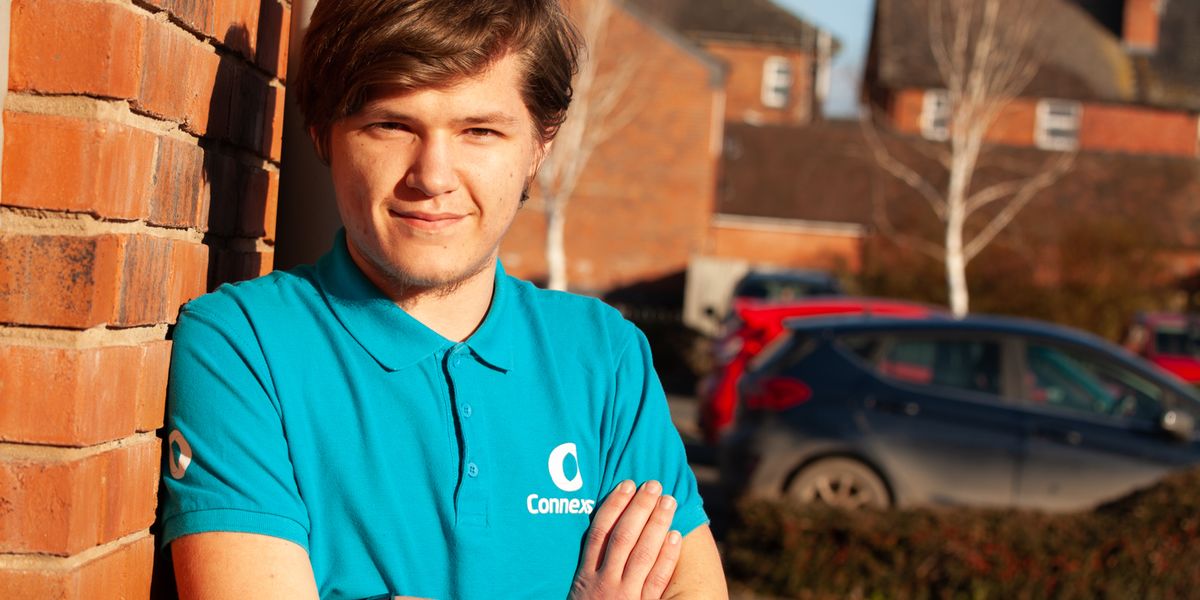 Twenty-year old Robert Evans, from Clee Hill, originally joined Connexus last year to work in reception at The Gateway in Craven Arms. Following a successful interview Robert secured a customer services role in January and is now responsible for helping customers with repairs and maintenance enquiries.
Before joining Connexus, Robert found it difficult to find employment. He said: "I left college but didn't know what I wanted to do. I spent a lot of time looking for jobs but couldn't find anything that really suited me. When I found out about Connexus and how they help people, it seemed like a good fit.
"Everyone is so supportive and that's really helped me build my confidence. Connexus is a big company and there's a lot to learn – but I am enjoying it. I get to speak to all kinds of people and do lots of things, so every day is different."
Although Robert's new role is temporary, he hopes it's the springboard for further opportunities within the organisation, adding: "I love what I'm doing the moment, but I'm really keen to get more experience and work with teams across Connexus in the future."
Laura Jones, Customer Services Team leader said: "We're really pleased with how Robert has settled in at Connexus. He gets on well with everyone, and nothing is too much trouble. He has picked up what's needed from the role really quickly and is great with customers. He is already familiar with the company, computer systems and who does what.
"I have heard a lot of positive feedback and am glad we've been able to offer Robert this opportunity."
The Kickstart Scheme provides funding for employers to create new six-month paid job placements for 16 to 24-year-olds receiving Universal Credit who are at risk of long-term unemployment. During their time at Connexus, those taking part in the scheme gain valuable experience and an understanding of working life. At the end of a placement, where possible, participants are supported to find further employment through temporary, permanent or apprenticeship roles.  
Explore our vacancies
Accommodation and Engagement Officer

£10,411.21 rising to £10,959.17 after successful completion of probation

About usConnexus is a community-focused housing group that aims to deliver high-quality homes and…

Business Support Assistant

Hybrid - Home Working/Craven Arms

£19,299.47 increasing to £20,315.23 after successful completion of probation

This role has been identified as suitable for Hybrid Working which will be a combination of home…

Business Support Assistant (Works Scheduler)

Hybrid - Home working / Hereford

£20,752.12 increasing to £21,844.34 after successful completion of probation

This role has been identified as suitable for Hybrid Working which will be a combination of home…

Hybrid - Working from home / Craven Arms

£35,889.10 rising to £37,778.00 after successful completion of probation

Connexus is a community focused housing group which aims to deliver high quality homes and services…

Customer Services Advisor

£13,840.06 rising to £14,568.49 following successful completion of probation

This role has been identified as suitable for Hybrid Working which will be a combination of home…

Financial Services Assistant

£21,631.50 - Increasing £22,770 following successful completion of probation

This role has been identified as suitable for Hybrid Working which will be a combination of home…

£22,954.28 rising to £24,162.40 per annum following successful completion of probationary period

This role has been identified as suitable for Hybrid Working which will be a combination of home…

£35,914.50 per annum, plus standby call-out payment

Connexus is a community focused housing group which aims to deliver high quality homes and services…

£20,752.12 rising to £ 21,844.34 following successful completion of probationary period

This role has been identified as suitable for Hybrid Working which will be a combination of home…

£26,622.13 rising to £28,023.29 following successful probation

This role has been identified as suitable for Hybrid Working which will be a combination of home…

ICT Service and Infrastructure Manager

£45,037.11 increasing to £47,407.48 after successful completion of probation

This role has been identified as suitable for Hybrid Working which will be a combination of mainly…

Standby rate £9,394.22 per annum plus £9.50 per hour

Connexus is a community focused housing group which aims to deliver high quality homes and services…

Hybrid - Home Working / Craven Arms

£31,698.28 increasing to £33,366.61 on successful completion of probation

This role has been identified as suitable for Hybrid Working which will be a combination of home…

Support Officer - Outreach

£9,798.79 per annum increasing to £10,314.51 per annum following successful completion of probation

Connexus is a community focused housing group which aims to deliver high quality homes and services…