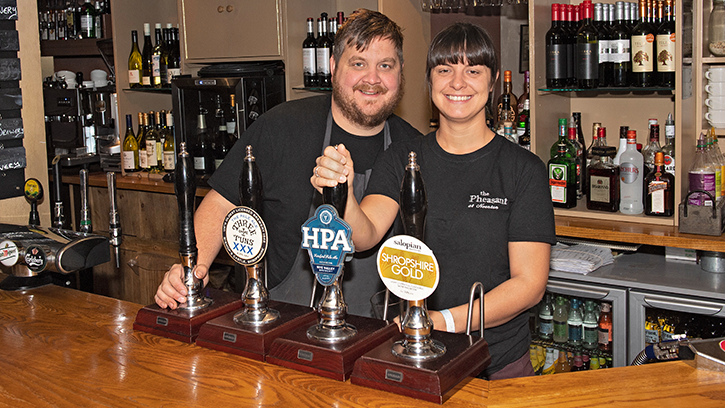 The Pheasant at Neenton, Bridgnorth has been highlighted today (11/02/19) in the House of Commons as an example of how successfully communities and housing associations can work together. Christine Duggan, Connexus Director of Housing and Wellbeing, travelled to the House of Commons, describing to MPs at the All Party Parliamentary Group for Rural Service's Rural Vulnerability Day event how the innovative partnership between Connexus and Neenton Community Society had resulted in a thriving and cherished community-asset.
The Pheasant first closed its doors in 2006, leaving the small south Shropshire village of Neenton with nowhere to meet, socialize and celebrate. Villagers banded together to form Neenton Community Society, and, with the help of Connexus, the community-group acquired the pub in 2013. Funds were raised through the construction of 7 new homes on land adjacent to the pub, 2 of which were available to buy through a shared ownership affordable housing scheme.
Since reopening in 2016, The Pheasant has become both the treasured local and a nationally-renowned classic country inn, with delicious locally-sourced food which people drive miles to enjoy. The new Oak Room doubles as a dining room and a well-used space for community meetings and events, reaffirming Connexus' commitment to supporting this close-knit rural community.
Christine Duggan sees a future for similar collaborations within social housing, saying:
"Projects like The Pheasant at Neenton show just how important it is for housing associations to work with communities to provide new affordable homes and enable the local community to deliver a community asset.  Partnership working is essential in our small rural villages."
Since re-opening, The Pheasant has been managed by Sarah Cowley and Head Chef Mark Harris. Sarah said:
"We're delighted with the community's help to be building a sustainable rural enterprise, employing and developing local young people while making Neenton a great place for us all to live."
Mark Harris said:
"By serving some of the best food in Shropshire, we're bringing people from all over the country to this tiny village."